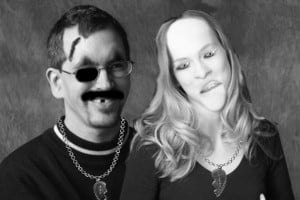 MINERTON, WI (TheSkunk.org) — An ugly girl has asked a convicted sexual offender to be her prom date.
Myrna Tidfedder endured a lifetime of rude remarks about her appearance, but that didn't stop the Maywood High School senior from finding someone willing to be seen with her at the most cherished event of her life.
Colin Murdoch was paroled last month after serving 15 years in the state penitentiary for raping an oral hygienist who had just cleaned his teeth.
"She said I had plaque," Murdoch told the judge at his 1994 sentencing. "She shouldn't have said that."
Tidfedder said she was tired of overhearing other girls talk about how they were all going to have sex with their prom dates. Consumed with jealousy, the hideous looking 18-year-old decided that she, too, would get fucked on prom night. "But not with just anybody," she said. "I wanted a professional."
She began her search online and soon "hit the jackpot," discovering lists of thousands of men from across the country, all of whom were required to disclose their names and addresses pursuant to federal law.
"If you're ever lonely and want a sure thing," she said, "go to your state's home page and type in 'sex offenders.'"
According to the website, Murdoch had just been granted parole and would be moving into an apartment a few miles away. After instant messaging with him for three weeks, the pathetic Tidfedder drove to the prison the day of his release to give him a lift. She then offered to give him a second release if he would go to the prom with her.
He accepted, provided the dance was within a five-mile radius of his new home and "they don't mind my ankle monitor."
Tidfedder's parents had mixed feelings about the relationship. "I knew my little girl would never be 'Queen of the Ball,'" said Clarence Tidfedder, "but couldn't she have simply hired a hooker — like we did in my day?"
Her mother was more philosophical. "Is he a rapist? Yes," she said. "But he was only convicted twice. There are worse rapists she could have chosen —  although probably not worse-looking."
Their daughter remained defiant. "I don't care that his face has been slashed several times, or that he's missing an eyeball," said Myrna. "If a plumber's working on your pipes, do you care what he looks like, as long as he knows what he's doing?  I mean, I'm not in love with the guy — I just want someone to work on my pipes who knows what they're doing."
Tidfedder looks forward to accompanying her date to the prom, now only a week away. She said she plans to spend most of the evening making sexual innuendo and discussing the deserted barn on the old Caldwell ranch.
"A girl's gotta do what a girl's gotta do," she said.