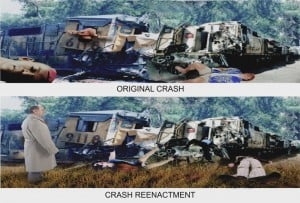 FOGSHAFT, OR — A reenactment of a fatal train crash that killed 13 people last month resulted in the deaths of 13 people.
"We took extraordinary efforts to faithfully re-create the conditions that resulted in the original crash," said investigator Rollo Timms of the National Transportation and Safety Board.
"We used the same types of trains, traveling towards one another on the same section of track, at speeds identical to last month's incident, carrying the same number of passengers onboard.  We just don't know how this happened."
The NTSB issued a statement saying they were saddened and shocked by the deaths, and are planning to reenact the reenactment.  "We're going to need to figure out what went wrong," said Timms, "with the hope that tragedies like this can be avoided in the future."
13 volunteers will be needed to portray passengers in the reenactment of the reenactment. Interested parties should contact the NTSB.