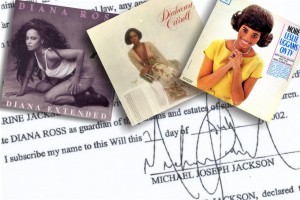 HOLLYWOOD — Performers Diahann Carroll and Leslie Uggams expressed their indignation today at being excluded from Michael Jackson's will.
"We weren't mentioned once," said an incensed Diahann Carroll, whose career spans five decades in the television, film and music industries, "not even in passing."
In the five-page document, Jackson gives custody of his children to his 79-year-old mother and names singer Diana Ross as a backup guardian.
"Miss Ross is not the only matronly black female entertainer," said Tony and Emmy Award-winning actress/singer Leslie Uggams, who recently performed on Broadway opposite James Earl Jones in the revival of Ernest Thompson's On Golden Pond. "I'm a mother, I raised a family."
"What if something should happen to both Michael's mother and Diana Ross?" asked Carroll, a Tony Award winner, an Emmy and Grammy nominee, a Golden Globe winner and a Best Actress Oscar nominee. "What if they crashed into each other on the freeway and died on the same day?  Who would get custody of the children?"
"That wouldn't even be an issue if we had been made the backup guardians to the backup guardian," said Uggams, who has been captivating stage, screen and television audiences since her national TV debut at age six. "It hurts that Michael didn't think to include us."
Carroll, whose 2006 cabaret show debuted to sell-out audiences, and Uggams, whose portrayal of the off-beat society heiress Muzzy Van Hossmere in the Tony-award winning musical Thoroughly Modern Millie garnered rave reviews, told reporters their concern is for the children and they are not trying to exploit Jackson's death in any way for publicity purposes.
The performers said they have no plans to contest the will, unless cameras are allowed in the courthouse.