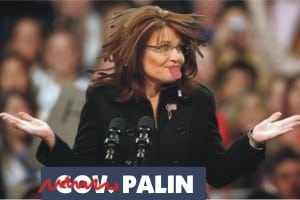 WASILLA, AK — Governor Sarah Plain was pronounced brain-dead Friday after reporters found her outside her home, mumbling incoherently.
Wasilla Fire Department Capt. Ben Stemple said that paramedics responded to a 911 call from the home. When they arrived, Palin was telling reporters that she was resigning from her position as governor and babbling a cryptic message about basketball.
The circumstances of Palin's brain-death remain unclear. Law enforcement sources said that Wasilla Police Department detectives have opened an investigation, though they stressed that there is no evidence of criminal wrongdoing.
Detectives have been interviewing relatives, friends and Palin's doctors to try to determine a cause. Investigators are focusing on whether Palin had been taking any psychotropic drugs and, if so, how long she had been off the medication.
Palin had been rehearsing for a comeback at the time of her brain-death, with the Republican National Committee sponsoring a series of fifty town hall meetings that would have helped her regain the status she once held as "Queen of the GOP."