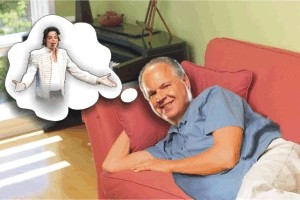 NEW YORK — In his nationally syndicated radio program, Rush Limbaugh regretted not holding Michael Jackson in his arms before the pop idol passed away last month.
The conservative talk show host said he had met the King of Pop several years ago while traveling through California's Central Coast and thought he was "a sweet, sweet man."
Although Limabugh never visited Neverland Ranch, he imagined the two would have had "a grand time" there.
"In my fantasies, Michael and I watch cartoons and play ride-the-pony until bedtime," lamented Limbaugh. "We'd lie there snugggled together, gazing at the moon through his expensive, leaded-crystal window, awash in wonderment."
According to Limbaugh, Jackson's use of drugs to treat his insomnia was completely unnecessary.  "If only he had called me," he said. "Instead of taking dangerous medications, I could have come over and lulled him to sleep with my grandma's hot tea and lots of hugs."
Limbaugh called it tragic that Jackson died alone, never knowing how much he was loved. "We could have held each other for hours," he said, "sharing our dreams for the future."
His familiar baritone voice cracked as he tried to hold back tears.
Limbaugh said if he had to do it all over again, he would be there for Michael, hugging him "like there was no tomorrow."