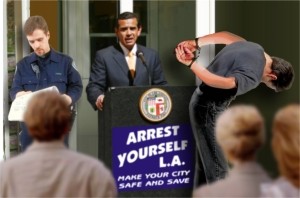 LOS ANGELES — In an attempt to lower costs for law enforcement, Mayor Antonio Villaraigosa is asking lawbreakers to turn themselves in as part of his "Arrest Yourself" campaign. He spelled out details of the program at a press conference Tuesday.
"Let's say you've just robbed a bank and pistol-whipped a teller," explained Los Angeles's first Hispanic mayor. "As you pull away from the curb, you immediately drive to any police station, hand over the money to the desk sergeant and let him know you wish to be incarcerated."
As an example of the program's success, Villaraigosa introduced sex offender Manny "Fishhead" Joelliana, who took himself into custody after brutally raping a 17-year-old college freshman, leaving her for dead. "Joelliana walked into LAPD's Rampart station of his own accord," noted the Mayor, "bringing with him a sample of his own semen."
Villaraigosa said that even though Joelianna is a "dirtbag," he is also "an exemplary citizen" who saved the police department an estimated three-hundred-thousand dollars.
The Mayor encouraged not only hardened criminals to participate in the program, but also motorists, who he said should cite themselves for minor infractions. "If your parking meter has expired, send a check directly to the City Clerk's office, made out for an amount that you, yourself, determine will be the hardest for you to part with."
"And by the way, fellas — we don't need your semen for an expired meter," he laughed, "– unless you go and rape someone afterwards."
Villaraigosa instructed drivers to pull over to the curb if they exceed the speed limit and to verify their driver's license and registration, before giving themselves a ticket. "If you discover an open container of alcohol in your car, do the right thing and give yourself a sobriety test." Villaraigosa closed his eyes and touched his index finger to his nose to demonstrate.
"If you attempt to flee, you should use reasonable force against yourself to regain control of the situation."
Recalling how far the Los Angeles Police Department has come since its "dark days of injustice and racial profiling," he cautioned citizens not to arrest themselves just because they're black or Hispanic.
"Don't slam yourself against the hood of a car unless you've done something bad first," he said. "Throw someone off a bridge, put a slug in your neighbor's head for a dope deal gone sour — then haul your ass into jail. That way the City of Los Angeles can maintain its moral high ground."
According to Villaraigosa, the millions of dollars in potential savings for the LAPD would be reallocated to providing security at championship sporting events and celebrity funerals.