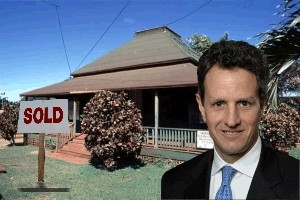 WASHINGTON — The month of July saw an increase in single-family home sales nationwide by a total of 11. The 11 homes were sold in California, New Mexico, New Jersey, and Guam.
Six of the homes were sold to buyers who had no employment and will not be able to make their mortgage payments. The other five were sold to the federal government in its "Home Buyback to Boost Home Sales Statistics" program.
The news was touted by the Obama administration as another indication of economic recovery.
"Banks are once again loosening their underwriting requirements," explained Secretary of the Treasury Timothy Geithner. "That's a sign the President's economic policies are working and more people will once again be able to buy houses, despite low or non-existent incomes."
Geithner said he anticipates at least 19 more homes selling by the end of the year.