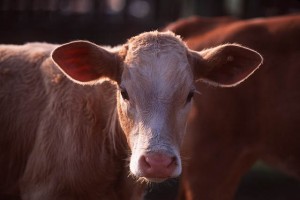 FORT COLLINS, CO — Richard Heene, the self-proclaimed scientist who incited public outrage by deceiving authorities into believing his six-year-old son was aloft inside a homemade weather balloon, has made another panicked plea for help, this time claiming his wife Mayumi was carried away inside the intestines of an angry cow.
Heene said he purchased the bovine as part of an experiment to see if he could alter its genetics to produce wine instead of milk. He said his wife and kids were assisting him in thrusting chardonnay grapes into the cow's anus, when it suddenly "bolted and ran off."
"My son had just busted me up with a joke about cow farts.  When I turned back, the cow wasn't there and neither was my wife," explained Heene, the erstwhile reality show hopeful-cum-America's favorite jackass.  "Something in my gut told me that she had been sucked deep inside the animal's rectal cavity and was being carried away to a wheat field somewhere – probably in Hollywood or Burbank."
Officials were slow to buy in to Heese's frantic calls for help a second time.  "Just because no one can attest to the location of this alleged cow, or of his wife," noted Larimer County Sherriff Jim Alderden, "doesn't mean she's stuck up its ass, being dragged all across who-knows-where."
The Sheriff's suspicions were reinforced upon learning that Heene's first call wasn't to 911 operators, or even the FAA — as was the case with the balloon incident — but to the Oprah Winfrey show. 
Winfrey took Heene's call live on the air, where he pleaded with her viewers to call police if the see a rogue cow in their neighborhood, with a "yellow scarf poking out of its butt."
"Please, help me find that cow," said Heene to the studio audience. "I can't imagine my life without her."