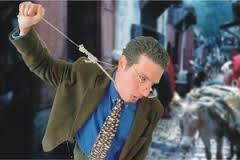 GUATEMALA CITY — John Wilson holds a PhD in physics and has worked in the aerospace industry for over thirty years. Today he is selling cheese-stuffed pupusas — a native Guatemalan delicacy — from the back of a burro-driven wagon.
With unemployment over 10 percent in the United States, many Americans are finding job opportunities south of south-of-the-border, in towns like Antigua and Huehuetenango.
Guatemala's burgeoning third-world economy has been a welcome respite to formerly high-paid professionals who have toiled for months to get a job state-side.
"I was out of work for over a year," noted Wilson, as he dowsed some meat with a chunky red sauce and handed it to a customer. "Now I'm pulling in 8,000 quetzals a month."
That's equivalent to about ten US dollars, but according to Wilson it buys a lot more in this country than it does back home. He also makes "after hours" money, performing in front of a live audience at the local gay strip club. "I don't feel comfortable discussing the details," he said, "but it was part of the deal I had to make to get the food wagon."
His wife works as a maid and "legal" prostitute for wealthy Guatemalan businessmen. "If they decide to pay her," noted Wilson, "they can be very generous."
Wilson said the lower cost of living allows his wife and him to live like royalty. "Our neighbors call us 'Gringo Rico y su Puta' — the Rich Americans down the street."
It is estimated that over half-a-million job seekers will emigrate from the United States to this Central American country by the end of next year in search of a rewarding new career and, along with it, a renewed sense of self-esteem.
Allison Borden worked on Madison Avenue, creating some of the best-known television commercials of the last decade. When her firm shut their doors in the spring, she had a hard time relocating. "There are only so many positions for advertising creatives," she noted. "When I couldn't find work, I became desperate."
That's when she heard about the Guatemala work-incentive program for Americans. For two days each week, Borden works for the Guatemala Parks Department, giving tours of the 2000-year-old Mayan pyramids in the ancient city of Tikal. For the remainder of the week, she serves as the private masseuse for the Minister of the Guatemala Parks Department.
Borden said the pay is more than sufficient for her new lifestyle. "And there's very little sex involved," she explained, "except for the few times a week he invites his friends over to have sex with me."
Wilson and Borden are part of the new reality of the US economy. Until the domestic job market begins to rebound, more and more Americans will follow their careers paths down to our neighbors in the south, where the greeting of "Chupa me, verga!" – We Have a Job for You – is graciously extended to all Americans.