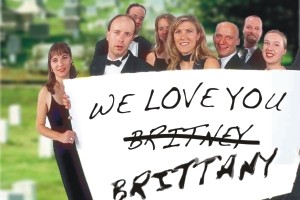 HOLLYWOOD — Scores of unsuccessful actors, bad writers, producers of B-movies and Gary Coleman gathered today at the Hollywood Forever cemetery to celebrate the life of the late Brittany Murphy.
"There has been a long history of discrimination in Hollywood against those without talent," said reality star Kim Kardashian, "but Brittany came along and opened the door for everyone. She will be missed."
"Many people know her for her breakout role in 'Clueless,'" noted a former staff writer for America's Funniest Home Videos, "but those of us gathered here will never forget her banal line deliveries in 'Just Married,' where her struggles to create witty banter with that guy from the Nikon commercials permeate every frame of film."
"She broke barriers," added Coleman, whose 1970s sitcom Different Strokes was the first to integrate aging showbiz professionals with untalented kids. "Starting with nothing but insurmountable luck, a few chance introductions and the randomness of the universe, she proved that anyone can make it."
Coleman said he is not sure where Murphy will be interred, but the group chose to pay their respects at the Hollywood memorial park because it was the only cemetery to permit a screening of Murphy's 1992 guest appearance on Parker Lewis Can't  Lose.
The group last assembled at the funeral of pitchman Billy Mays.