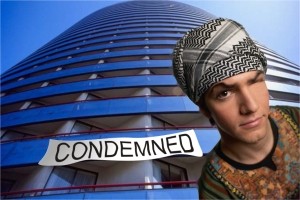 PLAINS, GA — Abelson Demolitions is looking for a few good suicide bombers.
For the last half century, this world-renowned demolitions company has been using its cutting-edge technology to bring down skyscrapers and other concrete and steel monuments to human achievement.
But with the price of explosives soaring out of control and a shrinking customer base, executives decided to gamble on a new approach, utilizing the services of suicide bombers to demolish the structures at a fraction of the cost.
"The economy has made our old techniques unfeasible," said Ted Abelson, grandson of the company founder. "We figured if suicide bombers are going to blow themselves up anyway, why not do it inside one of the buildings we're contracted to bring down?"
Abelson has been accepting applications for the position since the first of the year. While their phone hasn't been ringing off the hook, they did hire a student from Yemen to take down an antiquated bank building in Mesa Arizona.
"We told him it was CIA headquarters," admitted Abelson. "The place was completely flattened in under ten seconds. Allah is indeed great."
Abelson advises prospective employee/suicide-bombers that while the pay is competitive, the position is only part-time. "Right now, we're only hiring on a per-blast basis."