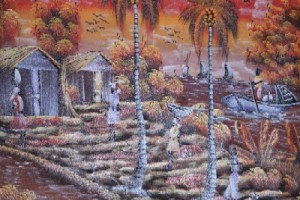 PORT-AU-PRINCE, Haiti – Not even the shock of a 7.0 earthquake, which devastated this tiny island nation on Tuesday, could distract its inhabitants from the distraught that befell them following Simon Cowell's announcement that this would be his last season as a judge on American Idol.
"I can't believe he's leaving us," said Jean Leponte, who waded through the knee-high debris of his collapsed mud-and-stick hut, searching for his 14-year-old daughter and handmade Susan Boyle coffee mug. "The show will never be the same without his blunt brand of in-your-face honesty."
Although it took workers over two hours to dig housekeeper Asifi D'Pierre out from under three feet of broken concrete and tree roots, she mustered enough energy to voice her opinion on the shocking development.  "It's all about da money," she said as she lay bleeding on a dirty cotton sheet.  "Simon Cowell is turning his back on all his loyal fans, just for a larger payday."
From the crumbling ruins and rubble of his once gleaming palace, Haitian President Rene Preval called for a moment of silence to grieve the impending absence of the music world's favorite curmudgeon. Emergency workers lay down their shovels and picks, as they contemplated the hours of entertainment Cowell brought to their lives.
A local cab driver, whose face was severely lacerated when a goat smashed through his windshield, called the day "the saddest ever" for the people of Haiti.
"We have faced a lot of devastation over the past thirty years," said the cabbie, "but this is the worst. I just don't know how our nation can recover from the loss of Simon."