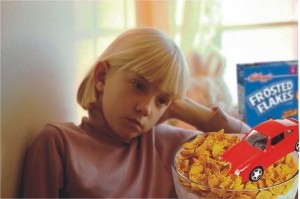 BATTLE CREEK, MI — Kellogg's has recalled two-million cases of Frosted Flakes after an eight-year-old child discovered a toy car hidden inside the cereal.
Third grader Jenny Thompson was pouring herself a bowl of the delicious, sugary flakes, when the small plastic vehicle cascaded from the box.
"I was really freaked out," she said. "I was like, 'Mom! Dad! There's something in my cereal!'"
In a statement on its website, Kellogg's said it has no idea how the toy ended up inside the cereal box, and referred to the incident as "isolated," but issued the nationwide recall to assure customers that its products are safe for consumption. "Our company prides itself on providing wholesome breakfasts for America's children that are satisfying and 99% digestible."
Jenny's father doesn't believe the recall goes far enough and has initiated a $10 million lawsuit against the company.
"I'm sure some employee thought it would be a funny prank to conceal a cheap, crappy toy inside the cereal during the packaging process," said Melvin Thompson, a litigation attorney. "But my daughter could have eaten the toy, or broken her teeth on it, or somehow gotten it jammed inside her rectal cavity, and someone needs to be held accountable."
The Food and Drug Administration is investigating the case, and has pledged to use all its resources to bring the perpetrator to justice.
"Food tampering is a serious crime," said an FDA spokesperson. "We want to send a clear warning to anyone considering a stunt like this in the future: Cereal and toys don't mix."