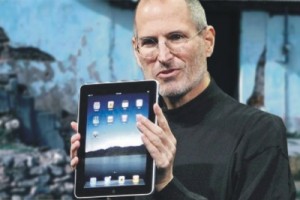 CUPERTINO, CA — CEO Steve Jobs announced today that Apple will ship ten million iPads to Haiti to aid the disaster-stricken country.
According to Jobs, the tiny island nation will be the first market in the world to receive the new multi-media device. "Haitians will be able to purchase a 16 gigabyte iPad at the amazing price of $499," he said. "They can upgrade to the 32 gigabyte version for an additional $300."
Streets and runways are being cleared of medical supplies to make room for the iPads, expected to arrive in early March. The UN will help distribute the product until mid-summer, when Jobs anticipates opening the first Apple store in Port-au-Prince.
Jobs said 10% of the profits will be donated to the Red Cross and other disaster relief agencies assisting Haiti.  "It's a win-win situation," he noted. "Every time a Haitian purchases an iPad, they will be providing gravely needed humanitarian services to their fellow countrymen."