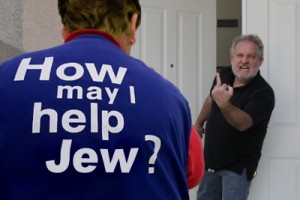 BENTONVILLE, AR – Desiring to showcase its commitment to diversity, Wal-Mart is looking to hire a Jew in one of its 4200 stores nationwide.
"We are reaching out to the Jewish community," Wal-Mart CEO Mike Duke told reporters. "We want to let Jews know they have a home here."
So far, the efforts have been in vain. After six months, their "Hire a Jew" campaign has produced no results. A call to the human relations department confirmed that Jews haven't submitted a single job application this year, nor at any time throughout company's 48 year history.
"Why won't they work for us?" wondered one employee, as he set up a display of King James bibles. "I thought they liked the retail business."
"We got close with Feinbaum," noted Vice President Paul Wilson, "but he eventually turned us down."
Benjamin Feinbaum, a physicist with NASA, said he never had any intention of working for the company. "I needed to buy some cough medicine for my kid," he said, "and they were the only store open at midnight."
As he approached the medicine aisle, according to Feinbaum, "someone jumped me from behind, forcing me into a blue vest with a smiley face pinned to it."
Feinbaum, who is referred to by company brass as "The One Who Got Away," said he ripped the vest off and dashed out of the store without making his purchase.
Duke won't let the setback deter him from his goal. He said Wal-Mart will be doubling its Jew-enticement efforts, which will include sending employees door-to-door to the homes of Jews, handing them colorful brochures and trying to convince them that "maybe they should give Wal-Mart a try."
"I'm sure if we could just talk to them at the doorposts of their homes on a Saturday afternoon," he said, "we would make converts out of them."
Toward that end, the company has pledged to create a Jew-friendly work environment, setting aside an area in every breakroom where Jews can "practice their ritualistic animal slaughter and virgin blood sucking."
"And we won't force them to handle any sparkly Jesus candles or crucifix wall decor," explained Wilson. "As long as they attend the monthly pancake prayer meetings, and don't wear any Jew things on the outside of their clothing, I think some young Jew-boy or Jew-girl would find this a rewarding career choice."
Duke defends his company as a provider of equal employment opportunities, and denies any notion of discrimination. "You can ask any of the Mexicans, old people or learning disabled on our payroll," he quipped. "They all feel equally mistreated."
If and when a Jew ever accepts a job at Wal-Mart, Duke said they can have their pick of any store in the country. "We don't care where they work, we just want one Jew on our team," he said. "Just one."
"And hopefully," added Wilson, "that will lead to some Jews actually shopping here, too."