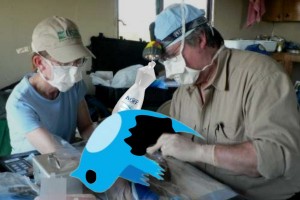 GRAND ISLE, La. (TheSkunk.org) — The oil-soaked body of  the Twitter Bird, the iconic logo for the popular  social networking site, was found on a contaminated beach on Friday. 
Wildlife officials tried to save the renowned fowl, but the toxic petroleum had already penetrated into several layers of his clipart carcus. 
This was the first vacation for the blue feathered creature in over four years, and he had told his friends that he looked forward to dining on crawfish pie and beignets from Cafe Du Monde.
"This is a sad day for all of us," lamented the multi-colored NBC peacock. "Why is it famous birds either die in air crashes or oil slicks?"
In lieu of donations, the bird's family has asked mourners to share their thoughts by tweeting them along with the term #DeadTwitterBird.