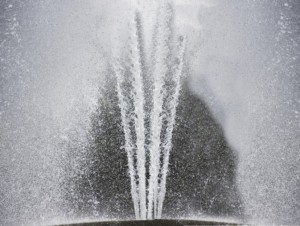 TORRANCE, CA (TheSkunk.org) — An underground water channel drilled into by the Sparkletts company burst open Saturday night, releasing millions of gallons of pure, crystal clear H2O into the oil reserves at the nearby ExxonMobil refinery.
Executives from the renowned drinking water firm have apologized for the accident.  "Sparkletts takes complete responsibility for the spill," said VP of Public Affairs Donald Ruttweil, "and is doing everything in its power to mitigate the damages."
Environmentalists said that an apology is not enough. "This oil will be contaminated for years," said a spokesperson for the Sierra Club. "The greed of these huge water conglomerates has permanently damaged millions of gallons of nature's precious crude. If this water eventually makes its way into the gas tanks of our cars and trucks, it will cause great suffering to motorists throughout Southern California and the rest of the nation."
Experts predict cleanup and recovery costs could exceed $10 billion. The economic effects of the disaster are being felt by the entire bottled water industry. Early reports indicate that office workers are gathering around water coolers not to quench their thirsts, but to retell jokes they heard on the previous night's comedy shows.
Efforts to seal the spouting water have so far proven ineffective. "We've hired children to capture the water in latex balloons," explained Ruttweil, "but the kids keep throwing them at one another, causing the balloons to explode on impact and sending H2O splattering onto the surrounding sidewalks."
Engineers plan to lower a decorative fountain over the shooting stream, which will redirect the water and send it flowing down over hand-sculptured ceramic tiers. "This will not stop the leak," noted Ruttweil, "but we hope the pleasant sound of the cascading water will create an atmosphere of peace and tranquility for those who take the time to stop and listen."
The leaking water has been evaporating into the air at an alarming rate. Despite executives' initial claims that the amount was only "eight or nine glassfuls," scientists now say that number is closer to several million full-sized crystal flower vases.
The health impact of the disaster is yet unknown. Researchers say they have no long-term studies on the effects of breathing water vapor. "The EPA has no guidelines for toxicity levels of this stuff," said Dr. Hans Oldameir, a professor of environmental studies at UCLA. "We could all be inhaling a timebomb."
Oldmeir's team is currently looking at wild ducks for an answer. "The water seems to bounce right off their backs, as if they were coated with an impenetrable, natural sealant."
According to Oldmeir, any rain falling in the coming months could be a huge setback. "If we get one of those freakish Southern California storms," he said, "it would be next to impossible to differentiate the water coming down from the stuff gushing up."
Sparkletts said it will hire laid-off refinery workers to assist in the cleanup of water that has fallen onto nearby trees and lawns. "We will make this right," assured Ruttweil in a 30-second television commercial. "Whatever it takes, however much it costs, Sparkletts will stop this leak and clean up the water, so that we may bottle it and sell it back to the consumer at a substantial markup."
"We have to pay for this enormous undertaking somehow," he added.