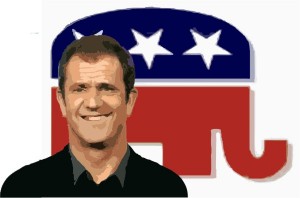 WASHINGTON (TheSkunk.org) — The Republican National Committee today approved the selection of Mel Gibson to replace Michael Steele as its new chairman.
In a survey taken shortly after Gibson's infamous phone tirades against his ex-girlfriend were made public, 83% of RNC members said they "strongly admired" the epithet-spouting Oscar-winning actor.
"Gibson embodies the spirit of extremism that's been lacking since my days in office," noted former Speaker of the House Newt Gingrich. "He will be a party unifier, and I wholeheartedly support his selection."
Current House Minority Leader John Boehner agrees. "Finally, we have in Chairman Gibson someone who will bring the competing factions of the Republican Party, along with Tea Party activities and closeted right-wing independents, together under one tent."
According to Sarah Palin, the choice of Gibson was "brilliant."
"Mel is unafraid to speak up on the important issues of the day," explained the former Vice Presidential candidate. "He's shown that it's okay to dislike people of another color or religion, or Native Americans or Hispanics or Jews or Negroes or poor people or women, without having that silly little label of 'prejudice' stamped on your forehead."
Even Steele, criticized on both sides of the aisle for his recent remarks on the Afghanistan war, couldn't find anything wrong with the selection. "As an African-American, it has always been difficult for me to use the 'N word' in any serious context," said the embattled GOP leader. "But Mr. Gibson, amid all his fame and accolades, calls it as he sees it."
"I am proud to be ousted in his favor," he added.
Gibson could not be reached by phone.