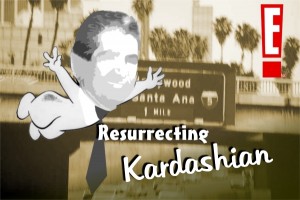 HOLLYWOOD (TheSkunk.org) — The late Robert Kardashian, an attorney who was a member of O.J. Simpson's murder defense team and the biological father to Kim, Kourtney and Khloe Kardashian, has inked a deal to star in a new reality series for Bravo, entitled "Resurrecting Kardashian."
Kardashian, who died in 2003, said that he got the idea for the series after watching his daughters and their mother exploit themselves on national television. "I was floating in a misty nebula inside my former family room, channel surfing to see if my name was still being mentioned in the national media in any context," he explained, "when I suddenly see my girls and ex-wife on the tube, romping around with my good buddy Bruce Jenner."
Kardashian said it took him awhile to figure out that his wife had remarried Jenner after his death. "They don't make it clear in the show that I was the biological father of the girls, and that Jenner is a horny, opportunistic dickwad," noted the famed defense attorney. "Then it all made sense to me: For years Jenner would be hanging around our house, in gym shorts and spandex tank tops, asking my wife for recipes and recommendations for Broadway musicals."
In the upcoming series, the phantom Kardashian follows his family around the city, wreaking havoc with the filming of their own reality show. In the opening episode, the cameraman on "Keeping up with the Kardashians" spontaneously bursts into flames as Kim and Khloe argue over nail polish.
"That was an easy one," admits Kardashian. "Wait 'til the audience see what comes out of Jenner's ass in episode six. Can you say colonic ectoplasm?"
Bravo executives inked a five-year deal with the ethereal attorney. "We welcome the spirit of Mr. Kardashian to our roster of fine entertainment," read a press release from the popular cable network. "We look forward to a long and everlasting relationship."
"My kids somehow became famous for being little more than brainless tramps," added Kardashian. "It's my responsibility as a parent — living or otherwise — to let them experience a little humility."
"Resurrecting Kardashian" will air Tuesdays at 8:00 pm on Bravo.