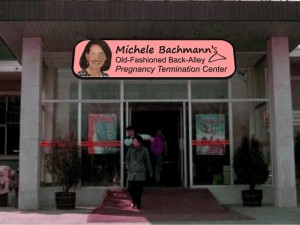 WASHINGTON (TheSkunk.org) — Rep. Michele Bachmann (R-MN), vocal advocate for smaller government and Tea Party favorite, has licensed her name and likeness to a new chain of nationwide abortion clinics.
Michelle Bachmann's Old-Fashioned Back-Alley Pregnancy Termination Centers will be located in 47 states and 13 countries. Medical insurance will not be accepted, but frequent customers will be eligible for volume discounts.
"The free enterprise system is better suited to terminate a woman's pregnancy than the government," declared Bachmann. "That's why I agreed to be a part of this amazing start-up."
According to reports, the ultra-conservative lawmaker is expected to earn over $6 million from the clinics in the first year alone. She was quick to brush off accusations of hypocrisy brought forth by critics who point out the extreme anti-abortion stances she has taken in Congress.
"I'm against abortion on moral grounds," she explained. "This is the free market. It has nothing to do with morals."