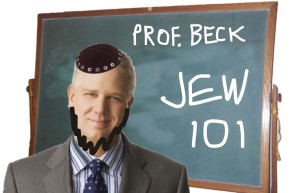 NEW YORK (TheSkunk.org) — Fox TV personality Glenn Beck has been offered a professorship in the Department of Jewish Studies at Yeshiva University.
"We hope Mr. Beck seriously considers our proposition," said Rabbi Moshe Leibowitz, Dean of Faculty. "We'd be honored for someone with his wisdom and insights into Judaism to have a presence on our campus."
Leibowitz said the school had considered discontinuing the popular, long-standing program due to lack of qualified instructors, when they heard that Beck was available. "With the addition of Mr. Beck, we can continue to educate our students in many aspects of Jewish history and culture that have been lacking in our recent curriculum."
Leibowitz said most people would find it "unbelievable" that the university has never before taught about the murder of Jesus at the hands of the blood-thirsty Jews, a thesis for which Beck is widely associated. "There's so much to learn from this man."
Rabbi Tsvi Polacek, Dean of Admissions, agreed. "It takes a scholar like Beck to explore the comparisons between the Reform Judaism movement and radical Islam," he said. "I was blown away by his research."
Polacek said he had considered applying for the teaching job, himself, but decided against it when Beck's name was mentioned. "I don't even come close to knowing what Beck knows about Jews," noted Polacek, who serves as Chairman of the Orthodox Rabbinical Association. "It would be a great injustice to our students if I took the position, for there's no one more qualified to embrace the lessons of Torah [than Beck]."
Leibowitz nodded in agreement. "If I'm having trouble with a certain passage of the Talmud, for example, I always call my friend Glenn Beck. I know he'll steer me in the right direction."
Beck could not be reached for comment. A statement from his office said that Beck was considering many exciting career opportunities, including a position as Outreach Director for Planned Parenthood.