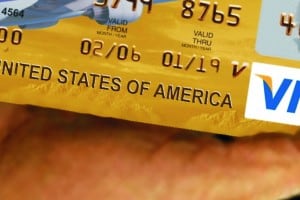 WASHINGTON, D.C. (TheSkunk.org) — In a letter addressed to President Obama, a representative with Singapore Airlines Visa Gold Rewards Card informed the U.S. government that it is $17 billion over its credit limit and charge privileges have been terminated, effective immediately.
The President said he first suspected there was a problem with the card when he tried to make a payment to Boeing on three dozen F-18 fighter planes ordered by the Pentagon. A cashier with the multinational aerospace and defense corporation slid the card through the reader "four or five times" before informing the President it had been declined. She then asked him for an alternate form of payment.
"It was very embarrassing," admitted Obama. "I had to think of something quick, so I told her I was a few days late sending out the payment, and it must have crossed in the mail. I think she bought it."
Collection agencies have begun phoning the White House, seeking payment of the outstanding balance. "A guy named Mr. Rangarajan or something keeps threatening us," said Michelle Obama, who has been fielding most of the calls, herself. "I've told him repeatedly, 'I don't have that kind of money.'"
The First Lady suggested they ask her mother to float the country a loan to pay off the card, but the President rejected that idea.
"I'm not asking my mother-in-law to pay off my credit cards," said Obama. "That's a non-starter."
For the time being, Mrs. Obama has been going through all their household objects, trying to identify anything they might be able to sell on eBay to pay off the debt. One such item is a hand-crafted ceramic ashtray made by Eleanor Roosevelt's great-niece. "I thought we could get a few thousand for it," she said, "but so far it's only up to about thirteen dollars."
The President has since come up with a new plan. "The United States will apply for a Costco American Express card," he said, "and if approved, I'm hoping to get a cash advance on the one card to pay off the other."
And if that doesn't work?
"I guess the Pentagon doesn't get its planes," quipped Mrs. Obama.
"And I'm pretty sure we'll lose all our reward points," added the President.