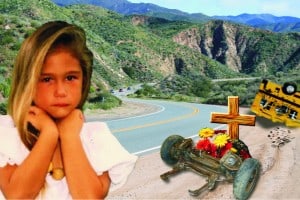 FLAXEN, MO (TheSkunk.org) — A school bus accident that killed 23 people caused major damage to the bus, which will take at least six weeks to put back into working order. Current estimates have repair costs in the range of $30,000 – $60,000.
Aimee Ballren, a 16-year-old student who was severely injured as the bus flipped over a cliff, told her parents she "feels terrible" about the wreckage sustained by the vehicle. Tom and Edna Ballren joined their daughter in the ICU to pray for its swift recovery. "It's something we hope no family ever has to go through, again," said Mr. Ballren, choking back his tears. "It seems like only yesterday when it was shiny and new, and now…" Ballren was overtaken by emotion and fell into his wife's arms.
"I should be me lying crippled in that body shop," said Aimee, as a nurse replaced her IV bag, "not that beautiful bus. If I could change places with it, I would."
George and Eileen Gompherden, whose 17-year-old son was crushed to death in the accident, expressed their sadness to the Flaxen School District for the horrifying manner in which their bus was practically split into two. "This has really taught us to enjoy the worldly bounties that God has given us," lamented Mr. Gompherden. "You spend all this money to get the best paint job, shiny new bumpers, state-of-the-art hydraulic brakes — and it can all be gone in a minute."
The incident has brought the whole community closer together. A candlelight vigil for the bus is set for Friday at the site where its transaxle was recovered.
A representative from Allstate said the damages were so extensive, the company may have to "total it out."
"We'd sure hate to lose that bus," said Martha Trenton, the transportation coordinator for the District. "It was only a year old and had just 30,000 miles on it."
Regardless of what the insurance underwriters decide, the surviving passengers — all students at Flaxen High School — will be holding fundraisers to restore the bus to its original condition.  "We can make sure the bus is completely refurbished, inside and out," noted Mr. Gompherden. "It'll be up and running again before you know it."
His wife nodded in agreement, adding: "I only wish our son could be here to see it."