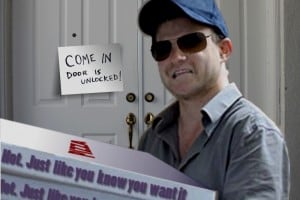 CANOGA PARK, CA — A local pizza delivery boy told reporters yesterday he is tired of walking onto the set of a porno film whenever he makes a home delivery. After thirty years, Miles Hartington, 47, is calling it "quits" from the adult film industry, saying from now on he will just deliver the pizza and "get the hell out of there."
"I'm asking all the lascivious women, lesbians and gay customers on my route to please respect my privacy," said Hartington, "and stop pulling me into your living rooms and forcing me to have sex with you."
The Adult Film Producers guild has issued a statement condemning the pizza boy's decision. "Since the beginning of our industry, the unwitting pizza boy has played an integral part in the production of pornographic motion pictures. We are deeply disappointed in Mr. Hartington's decision, and we hope he will take a few days to reconsider."
But Hartington said his decision is final, noting that the poorly written double entendres were starting to get on his nerves.
"There's only so many times you can listen to bad dialogue before wanting to shoot yourself in the head," he explained. "'Ooh, are you as hot as the pizza?' 'They say you come in 30 minutes or less.' 'Did you bring the extra pepperoni with you?'"
Although the local pizza boy will surely be missed, the area plumber, neighborhood mailman and nutty cable guy have all agreed to extend their contracts for another ten years, promising to service their customers to their complete satisfaction.
"If some lonely housewife tells me her pipes need fixing," noted the area plumber, "oh yeah, I'll fix her pipes!"