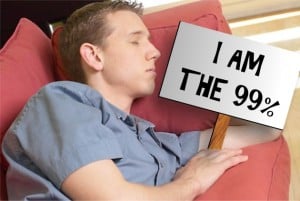 LOS ANGELES (TheSkunk.org) — From Oakland to Paris, law enforcement agencies around the world are in a quandary figuring out how to deal with the new "Occupy Earth" movement.
Occupy Earth was created when leaders from various domestic and international Occupy movements, tired of battling police and local governments for their right to peaceably assemble, decided to pool their resources into one global enterprise.
"The brilliance of the concept," explained Jeremy Neville, one of the Occupy Earth organizers, "is that no one has to leave the comfort of their home to participate."
But that "concept" is seen as provocative in the eyes of New York Mayor Michael Bloomberg. "It was easy to crackdown on citizens when they were all concentrated in one place," said an irate Bloomberg, who earlier had successfully orchestrated an excessive use of police force against his city's Occupy Wall Street protestors, "but now these maggots are occupying homes and stores and schools and offices and subways and cars throughout the entire planet, and we need a new strategy to smoke them out."
While it traditionally falls upon the shoulders of police departments to "smoke them out," in this instance they are struggling to devise a feasible plan. "Our job is to forcefully disperse the demonstrators and send them home," said NYPD Commissioner Raymond Kelly, "but if some guy is sitting in his underwear on his own sofa in his own living room holding a sign with some anti-Wall Street slogan — well, we're not quite sure if we should send them somewhere or just ignore them and hopefully no one will notice anything."
Mayor Jean Quan of Oakland believes the organizers should be charged with fraud. "They've tricked us," declared Quan. "By making everyone everywhere in the world part of this Occupy Earth movement, they're forcing us into cyclical thinking. 'They are the movement, the movement is us, therefore we are the movement.' That kind of bullshit might work on Mensa, but not local government."
Cops on the beat are just as confused. "We're armed with our clubs and plenty of mace," said one police officer, "but we don't know who's in the movement and who is not; who's head we should bash in and who we should leave alone. This whole 'Occupy Earth' thing — it's downright evil."
According to Neville, the protests will remain peaceful. "We intend to stay right where we are," he said, "until the greed of the top one percent is exposed, and the world's riches are distributed fairly among the middle class."
While the rhetoric of Neville may seem non-violent on the surface, an official statement released today from Occupy Earth read, "Submit, you capitalistic dogs, or we will take over your planet."
Neville denied the incendiary language is some sort of veiled threat.
"That's just PR hype," he claimed. "We've already taken over the planet."