Black Guy Who Appears Behind Romney at Campaign Rallies Asks for Raise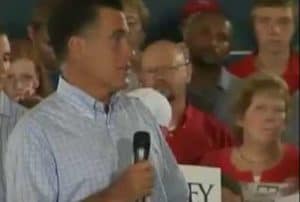 CLEVELAND (TheSkunk.org) — The generic black citizen hired to stand behind Mitt Romney at campaign speeches has asked his boss for a raise.
George K. Johnson, who was brought onto the  Romney campaign in 2011 to "give the illusion of African America support," said he receives $5 per appearance. "If I smile and cheer, they give me another buck twenty-five," he noted, "and sometimes, the Governor will turn to me a say, 'Atta boy.'"
Johnson said that while he appreciates having a job, he is barely making ends meet on his current salary.  "Sometimes, my girlfriend comes and stands with me, but they don't pay her anything."
The Romney campaign said they believe Johnson's pay is fair.  "We're surprised at Mr. Johnson's attitude," said Republican National Committee Chairman Reince Priebus.  "We could replace him with two authentic Chinese guys for the same price, so I wouldn't complain too loudly if I were him."
"I'm required to pay my own transportation around the country," complained Johnson. "After expenses, I'm out of pocket, twenty, thirty-thousand dollars. Where's the fairness in that?"
Although he remains determined to receive an increase in pay, Johnson has no plans to resign. "I'm sure Governor Romney will do the right thing," he said, "once he realizes the inequity of my situation."
Johnson ran his fingers through his hair, grabbed a Romney-Ryan sign and headed for the stage, where he will be positioned strategically in the background, as the GOP presidential candidate makes his case to the people of Ohio.
"The white people standing next to me are paid twice what I'm making," he added. "I think there needs to be some parity here."
Get The Skunk delivered to your inbox for free here.