Romney Begins Construction on His Presidential Library One Week Before Election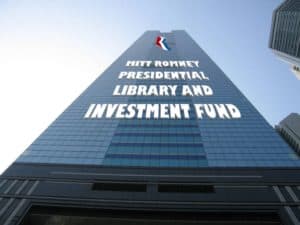 BOSTON (TheSkunk.org) — Mitt Romney today broke ground on what he said will be the country's largest presidential library.
"This gleaming institute of knowledge and history will house all the records of my two terms as President of the United States," explained the former Governor of Massachusetts, "like how I saved the U.S. auto industry, passed universal healthcare reform and added enough schooners to the navy to surpass our fleet in World War I."
According to Romney, all major components of the 195-story edifice will be fabricated by companies with roots in the United States. "The air conditioner, for example, will be manufactured by a firm in Beijing that used to be in Toledo."
Romney said the library will offer a comprehensive look at his presidency, including an entire wing dedicated to "my landslide victory in the 2012 election."
A statement from the Obama campaign called the announcement "a publicity stunt carried out by a desperate candidate."
Romney refuted the accusation. "President Obama has been in office four years and hasn't even started his presidential library," he stated.  "That's not the kind of leadership the American people need."
Plans for expansion are already on the table. "By the time I leave office, there will be over six-hundred Mitt Romney Presidential Libraries across the United States and in select countries around the world," he said. "And that will create another 12 million new jobs."
When asked about the wisdom of building a presidential library before the election has taken place, Romney shrugged.
"If doesn't work out," he added, "I could always sell it to Hillary."
Get The Skunk delivered to your inbox for free here.