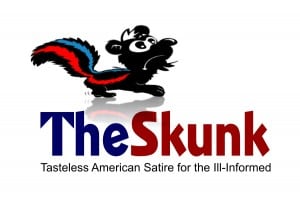 It's that time of year when we celebrate those odoriferous little creatures who have showered humanity with untold moments of rancidity and redolence. Of course, I am referring to those foul smelling little mammals known as Members of Congress. For National Skunk Day is more than a tribute to the furry creatures referred to in the scientific community as "Mephitidae," it is an ideal — an amorphous notion that being Skunk-Like is a quality not reserved merely for the adorable black and white critters with the stinky anal juice.
National Skunk Day — along with the various celebrations in the 30-plus states that have their own equivalent holiday — is a time to evaluate those who have stunk up our planet with their unique brand of vileness. We therefore take time this day to salute our elected officials — the men and women who have clogged the toilets of their minds with the aroma of bad ideas, the stench of ignorance and the fumes of bigotry.
So let's all reflect on this great annual American holiday, and celebrate our founding fathers for giving us the opportunity every two years to clean up that nasty smell.