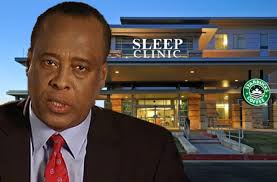 Beverly Hills (TheSkunk.org) — Dr. Conrad Murray, the former personal physician to the late pop icon Michael Jackson, plans to open a new medical clinic specializing in the treatment of sleep disorders, which he says would cater primarily to an upscale celebrity clientele.
Murray claimed that despite being convicted of murdering Jackson and subsequently spending two years of a four-year sentence locked up in the county jail, he successfully cured the world-renowned music star of his severe sleep disorder.
In a statement that was released to the public shortly after his own release to the public, Murray noted that in extreme cases, sleep deprivation can be "even more fatal than me."
"Mr. Jackson had been suffering from this malady for years, sometimes going without sleep for two or three days at a time," Murray reflected. "The treatments I administered to him in the weeks prior to the time I killed him were highly effective in alleviating the anguish he endured as the result of many a sleepless night."
Murray said he wants to use his experience to help other celebrities deal with similar sleep issues.
"Although Mr. Jackson is no longer with us to offer testimony on my behalf," said Murray, "I'm sure he would want to tell you how satisfying it was to finally attain a deep, undisturbed slumber."
"Dr. Murray's Sedation Station" is set to open sometime next year, according to Murray.
"Interested parties" he added, "can contact me through the parole division of the Los Angeles County Sheriff's Department."