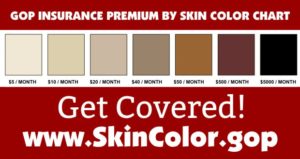 WASHINGTON (TheSkunk.org) – Conservative think tank The Heritage Foundation proposed on Monday a system of healthcare that would base insurance rates on the color of a person's skin.  Heritage CEO Jim DeMint described the program as "the perfect antidote to Obamacare. "
"Very simply, the nearer your skin color is to God's preferred Lilly White," said DeMint, "the less you will pay for health insurance."
Users who log onto the website will be directed to a color chart, where they can tick off the color that most closely resembles their own skin and the skins of their family members.
"This is not s racist program," declared DeMint, "because everyone uses exactly the same skin color chart, regardless of the color of their skin."
DeMint said his organization is designing a mobile app that will allow consumers to get an immediate insurance quote by scanning their skin with their smart phones.
Speaker John Boehner is expected to introduce the legislation to the full House early next week.