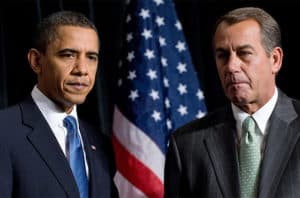 WASHINGTON (TheSkunk.org) — Speaker John Boehner said today that if Barack Obama would declare that his presidency is not legitimate, the government shutdown caused by Congress's failure to pass a continuing budget resolution would come to an end "within minutes."
Boehner said the proposition was his final offer to end the battle over the budget.  "If Obama renounces his own presidency — and everything he has achieved over the last five years — we will put the Continuing Resolution to a vote of the full House."
The Administration called the proposal a "non-starter," and accused Boehner of trying to score political points. A White House spokesperson reiterated the President's position that Boehner must introduce a clean bill to the House, with no amendments.
But Boehner is not backing down.
"We came up with a solution that I think is fair and reasonable," said the Speaker, "but the president's refusal to turn back the clock to 2008 – along with his steadfast instance of his own validity — is a clear rejection of the tried-and-true negotiation process. This is Obama's Shutdown."
Republican Majority Leader Eric Cantor agreed. "We're not asking for much," he noted. "If Mr. Obama resigns from office, declares Mitt Romney the legitimate president and promises to speak only in a Kenyan dialect for the rest of his life, the shutdown could end tomorrow."
Until the budget situation is resolved, many government-run agencies will continue to be closed, including the National Parks. Boehner called the situation very sad and extremely unnecessary.
"This president is more concerned with standing firm on all the legislation he has signed over the last five years," said Boehner, "than allowing Americans to visit Yellowstone."
"For the cost of a one-way plane ticket to Africa," he added, "America could be up-and-running again."