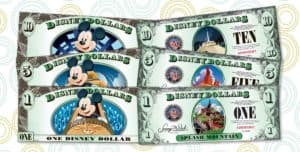 ATHENS (TheSkunk.org) — With the likelihood of being expelled from the Eurozone, Greece has decided to make Disney Dollars its official currency. Available in $1, $5 and $10 denominations, the colorful bills have been the official currency of Walt Disney World Resort and Disneyland since 1987.
"With the adoption of Disney dollars," announced Prime Minister Alexis Tsipras, "the Greek people will finally have a currency that is worth the money it is printed on."
Unfortunately, with their economy still in ruin and unemployment still at an all-time high, most Greek citizens traveling to Florida or California will not be able to afford the cost of admission to the famous theme parks.
"While we cannot be certain if this will stimulate our dormant economy," explained Tsipras, "the bills are adorned with images of Walt Disney's beloved characters, and that will do much to uplift the spirits of our people."
"And," he added, "they are much more beautiful than the drachma."