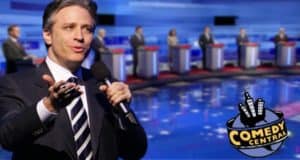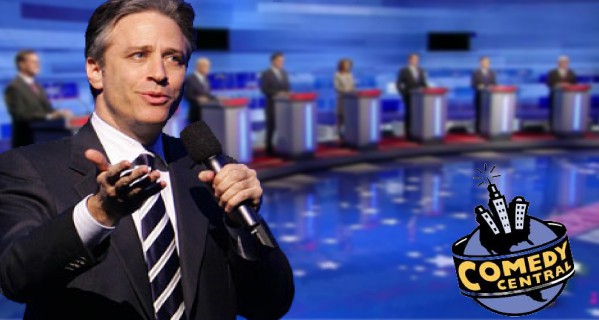 NEW YORK (TheSkunk.org) — Although Jon Stewart is retiring as host of "The Daily Show," his fans won't have to wait long for his return to television. The Emmy-winning comedian will be moderating the third Republican presidential debate, to air on Comedy Central on August 23.
After sixteen years of making jokes at the expense of politicians, Stewart said he is looking forward to taking an active part in the political process. "It's one thing to show a picture of Donald Trump and make fun of his hair," said Stewart, "it's another thing to actually see him in person and make fun of his hair."
Although Comedy Central plans to invite all candidates seeking the Republican presidential nomination, which by that time is expected to total 147, some of them have expressed reservations about Stewart as moderator.
"I'm not sure it's proper for a Jewish guy to be asking questions to someone who may one day be the leader of this great Christian nation," said former Governor Mike Huckabee.  "It's another attempt by the liberal media to take Christ out of the Constitution."
Jeb Bush expressed concern the debate would to turn into some sort of a roast. "If Mr. Stewart is just going to poke fun at us in a satirical manner," he lamented, "I'd rather not attend."
But Rick Perry said he looks forward to "going toe-to-toe" and "matching wits" with Stewart. "For every barb and jab he throws at me, I will be prepared to respond with a humorous comeback or cheeky retort that may or may not be just a bit racist."
The format of the debate will be slightly different than viewers are used to.  Stewart will ask the questions, and then candidates will have their choice to either answer or sip from a cup of cyanide that will be placed next to them.
Donald Trump feels the format gives him an advantage. "I love cyanide," said the billionaire. "I drink it all the time."