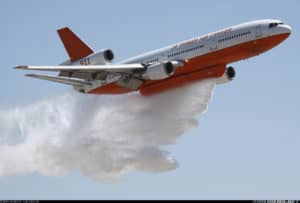 HOPE, AK (TheSkunk.org) — Presidential candidate and Baptist preacher Mike Huckabee said on Tuesday the best way to defend Israel against threats to its very existence is to convert all the Jews to Christians, via a mass baptismal event.
"Iran and other terrorist nations want to obliterate the Jewish State," said Huckabee in a recent interview, "but if there were no more Jews in the world, they would just lay off, and the people who live in the Holy Land will be safe from imminent annihilation."
The former two-term Arkansas governor said the plan is simple and can be carried off in an afternoon.  "We don't even need them [the Jews] to be present for the baptisms," he explained.  "We can fly firefighting air tankers over Israel to provide the necessary droplets of water to the foreheads of their citizens.  I can then perform the ceremony myself and declare all the Jews of the world to be Christians."
Huckabee said this was a much better option than the treaty between the Western powers and Iran, known as the "Joint Comprehensive Plan of Action," which has been the subject of intense scrutiny and criticism by American lawmakers.
"Obama wants to lead the Jewish people back into the ovens of Auschwitz," he said.  "I want to lead them into the evangelizing arms of Christ."
When asked about Huckabee's comments, Israel Prime Minister Benjamin Netanyahu shook his head in disbelief.  "While Israel generally appreciates the support of individuals anywhere we can get it," he said, "Mr. Huckabee has proven himself to be a total dickwad, and we can do fine without him."