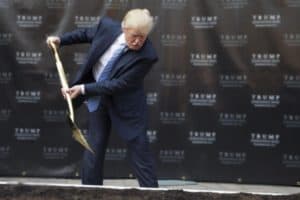 NEW YORK (TheSkunk.org) — Ground broke Monday on the President Donald J. Trump Library and Museum in Upper Manhattan.  Funded solely by Donald J. Trump, the $1.5 billion project is touted to be the largest of all the other presidential libraries.
"It will house all the tens of thousands of things – millions of things, probably — that I will have done do to make America great during my sixteen years as president," said Trump in an interview. "It's going to be large – larger then you can imagine, because that's the way I build things."
Although Trump is currently only a Republican candidate for president — with the first primary elections still six months away — he is confident in his ability to be elected in November 2016.  "The American people love me," he insisted, "and they're going to make me their president."
The Trump library will open later this year, well ahead of the primary and general elections.
"I'm opening the doors to my library early," he said, "because once people come and see what I'm going to do for them, they're going to give me one-hundred percent of their vote."
According to Trump, the library will feature one of his personal jet planes on display, along with a Vegas-style casino.
"I invite everyone to come to my library," he said, "spend some time at the tables, have a few drinks, and see what a very, very rich man like me can do with his money."