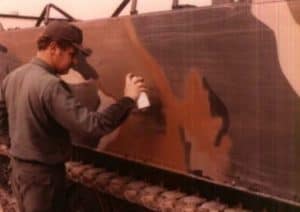 WASHINGTON (TheSkunk.org) – Over 10,000 camouflaged tanks, armored personnel carriers, and combat support vehicles have mysteriously vanished, according to Pentagon officials. The vehicles, painted in subtle abstract designs with colors such as "Field Drab," "Forest Green," and "Desert Sand" in order to avoid detection, were originally housed in drab fields, green forests and sandy deserts throughout the United States and other allied nations.
"The enemy is sophisticated and quick," noted an anonymous Army source. "These transports seem to have disappeared almost immediately after we finished camouflaging them."
While the current disposition of the vehicles is unknown, Republican lawmakers are placing blame for the disappearances squarely with President Obama. "Clearly, whoever stole this equipment was not deterred by the shoddy camouflaging implemented under the previous administration," stated Senator John McCain (R-AZ), Chairman of the Senate Armed Services Committee. "We need to review military guidelines for camouflage to ensure jeeps and tanks in the future will blend into the environment and become virtually invisible."
"Although we have no idea what happened to these camouflaged vehicles," added Senator James Inhofe (R-OK), a senior member of the U.S. Senate Armed Services Committee and Army Veteran, "we have an obligation to the American people to spend an additional $20 billion to replace them."
A spokesperson for the Pentagon had no comment for the press, pending an internal investigation, but claimed this is not related to the 500,000 camouflaged troops whose whereabouts have not been detected.