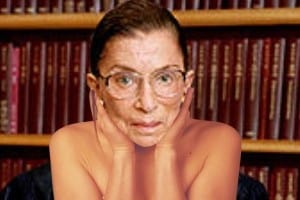 WASHINGTON, DC — Supreme Court Justice Ruth Bader Ginsberg, 75, agreed to pose nude for "The Women of the Supreme Court" calendar, a project designed to raise awareness for women's cancer. Appointed to the bench by President Bill Clinton in 1993, Justice Ginsburg is the second woman ever to serve on the highest court of the land and the first to ever shed more than just her robe for the camera.
The idea for the calendar originated with Justice Clarence Thomas shortly after the 2000 presidential election. "Women's issues are very important to me," said Thomas, "and so are naked women. So I thought, 'Why not combine two of my passions?'"
Ginsburg, who recently underwent surgery for pancreatic cancer, did not immediately warm up to the idea. "Clarence pleaded with me on a daily basis to take my clothes off [for the calendar]," she said, referring to the attention from her colleague as "borderline harassment" that "continued for years."
Ginsburg said she finally agreed to pose for the project in order "to stop Justice Pervo from 'accidentally' bumping into me all over Washington."
"Something about an older Jewish woman just does it for me," said Thomas, who coordinated all elements of the fundraiser — photography, printing and distribution — through his office staff.
Sandra Day O'Connor was originally slated to pose for the calendar, but her retirement in 2006 left Ginsburg as sole female justice, and therefore the only model to be featured in all 12 months.
The "2010 Women of the Supreme Court Calendar" will be available for purchase on the Supreme Court's website later this year.