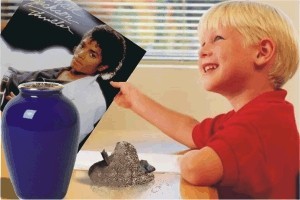 ENCINO, CA — Pop icon Michael Jackson has proven to be as unconventional in death as he was in life. According to a Jackson family spokesperson, once the King of Pop's remains are cremated, his ashes will be laid to rest deep inside the buttocks of a little boy.
"It's a place where Michael always found comfort," said older brother Tito Jackson. "It's a fitting tribute to a man who so loved children."
9-year-old Timmy Snydale is the lucky recipient of the ashes. "Wow, I'm gonna have Michael Jackson up my butt," exclaimed the San Luis Obispo fourth-grader. "This is more exciting than that summer I spent at Neverland Ranch, when I didn't see my parents for three weeks and Michael bought my dad a new car."
Doctor Keith Nadelson, who will be performing the unconventional burial, said the ashes won't stay in the young man's intestines very long.
"After a few bowel movements," explained Nadelson, Jackson's personal endocrinologist, "the King of Poop will be all but cleansed from his system."
Nadelson laughed.  "Of course, I meant 'King of Pop.'"