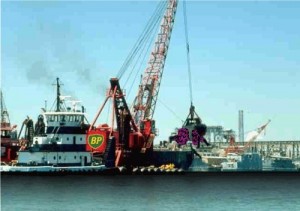 VENICE, Louisiana – Saying it was her way of giving back to the American people for "allowing me to live my dream," Oprah Winfrey has agreed to be lowered onto a broken oil pipe on the seafloor of the Gulf of Mexico that has been spewing thousands of barrels of toxic crude into the ocean on a daily basis.
Officials are attempting to use the renowned talk show host to plug the errant well, thus stopping the spillage and preventing millions of additional gallons from ever reaching the Louisiana coastline.
"The people of Louisiana have been through too much already," said Winfrey. "I'm not about to let this become another Katrina, if I have anything to say about it."
BP, the company responsible for the spill, has called the entertainer's gesture "heroic." A crane ship hired by the oil company prepared Tuesday to lower the television star 5,000 feet into the black-slickened waters of the Gulf.
"We got offers from a number of other celebrities, most notably Sean Penn," said a BP spokesperson, "but Ms. Winfrey's, how shall I say – base attributes – were the most compatible with our efforts to stop the 42,000 gallons of oil that have been shooting out of this thing every day."
The operation to place Winfrey over the largest of three oil leaks would be a breakthrough in the world of environmental hazard containment. Because she will be deployed to a depth of almost one mile, remote-controlled submarines will be used to guide her into place. By the weekend, the flow of oil is expected to cease.
Winfrey, the wealthiest female entertainer in history, said that as soon as she's fastened to the crane, she has instructed the rigging crew to lower her immediately into the murky depths. "Time is of the essence," she noted. "If they can position me just right, I might be able to stop all three leaks."
The British energy conglomerate's previous attempts at sending robotic submarines to the ocean floor to shut off a 450-ton valve system have been in vain, and using Winfrey to cap the powerful oil gushers is seen as the best hope of containment.
Over 2.5 million gallons of crude have already surged into the sea since the initial explosion that caused the BP oil platform to sink. If Winfrey fails, experts warn it could be the largest environmental catastrophe in history, exceeding that of the 1989 Exxon Valdes disaster in Alaska.
"I can't let the livelihoods of all those fisherman be destroyed," declared Oprah, as workers clamped her into a 750-pound metal harness and a welder carefully joined the seams. "I made a vow when I was young, that I would use every inch of my being to protect the little people."
BP had been prepared to send a 300 ton iron sleeve down to cover the leaking pipe and divert the wayward oil into a nearby tanker. "It would have been a bitch to move that thing," said one engineer. "Thank God for Oprah."
"We've done everything we can," said BP CEO Tony Hayward. "From here on out, this is Oprah's oil spill."
"We wish her well," he quipped. "Oil well."