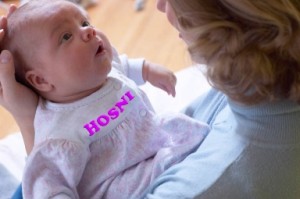 WASHINGTON (TheSkunk.org) – Although Egyptian strongman Hosni Mubarak may soon be deposed and forced into exile by a populist uprising, his name will live on — at least if parents in the United States have their say. Recent public awareness of the embattled dictator has resulted in thousands of American parents imparting their newborns with the name "Hosni."
"Who wouldn't want to name their kid after the longest reigning ruler of Egypt since Pharaoh Neferkare?'" asked one Bloomington, Indiana father-to-be. "We're not really sure what 'Hosni' means, but if it was good enough for President Mubarak, it's good enough for the product of my loins."
The "Hosni Craze" is spreading across the entire nation, affecting all demographics. From New England to Oregon, from millionaires to illegal immigrants who have entered the country merely to drop their anchor babies, parents everywhere are eager to have a little Hosni they can call their own.
"We were initially thinking of something boring, like 'Robert' or 'William,'" said a new dad in Arkansas. "Then we heard someone on CNN utter the word 'Hosni.' We just went nuts. It was the perfect name. Whatever he chooses to do in life — whether be becomes a shortstop with a major league basball team or the leader of a third-world country — I know my son Hosni will make his daddy proud."
Boys are not the only gender being branded with the moniker. "It's one of those sexy unisexual names, like 'Sandi,'" noted one New England mother, who recently christened her daughter with the name. "When my little Hosni is in high school, she'll be quite a catch, trust me. Who wouldn't want to go on a date with a 'Hosni?'"
That "date" will most likely be with someone else also named "Hosni."
According to the Social Security Administration, which tracks name trends, "Hosni" will be the most popular baby name of 2011 and beyond. "'Hosni' will be to this decade what 'Justin' was to the 1980s or 'Madison' to the 1990s," predicted Dr. Ethan Beroule, SSA Director of Name Research.
"Within twenty years," he added, "we'll all know someone named either 'Barack,' 'Newt' or 'Hosni.'"