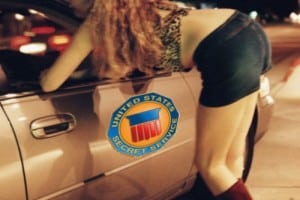 WASHINGTON (TheSkunk.org) – President Obama thanked the members of the Secret Service Wednesday for bringing an end to a Colombian prostitution price gouging scheme that had been flying under the radar for years.
"Because of the actions of these brave men," said Obama, "no longer will Americans be fleeced out of their hard-earned pay by professional sex workers when they visit our South American neighbors."
According to Obama, the agents displayed incredible self-control, rejecting the outrageous monetary demands of the prostitutes and insisting they lower their prices. "They took a stand and said, 'Enough is Enough! I will fornicate with you on my own terms.'"
The agents purportedly refused to pay the prostitutes "one penny more" than current market value.  "For this they have the gratitude of a thankful nation," said Obama, who sees the incident as a step toward lowering the cost of hookers throughout the world.
"This isn't just about Colombia," added the President. "Let me be clear to prostitutes in other countries: Do not overcharge. Our federal agents will find you, hire you, and refuse to pay."