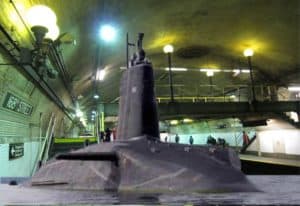 NEW YORK (TheSkunk.org) — Due to the flooding of subway tunnels from Hurricane Sandy, the Metropolitan Transit Authority today announced a partnership with the United States Navy to replace its aging fleet of subway trains with state-of-the-art nuclear submarines.
"Our cost analysis shows that it's cheaper to replace the trains with submarines than it is to pump the water out of the tunnels," said MTA spokesperson Kyle Blodgers.  "Commuters will have to adjust to wearing full scuba gear to make it through the subway terminals, but we feel this is a small inconvenience most New Yorkers would endure in exchange for the convenience and speed the submarines will provide."
The submarines will begin operations in early 2013, navigating the same network of previously dry tunnels the vintage trains once traversed.  "The infrastructure is already in place," said Blodgers. "Hundreds of miles of  tunnels already exist — and they're already filled with water. This will save taxpayers millions of dollars from not having to build everything from scratch, and will allow us the means to pay the $8 billion dollars each sub will cost to manufacture."
Blodgers acknowledged sections of the subway that rise above ground will be a particular challenge, but believes all major municipal transportation systems will eventually switch to submersible vessels as a necessity.
"We haven't figured out every detail," he explained, "but we're certain that submarines will play a major role in re-shaping inner-city transportation in the age of global warming."
"As the ocean levels rise and wipe out our cities," he added, "people still need a way to get to work.