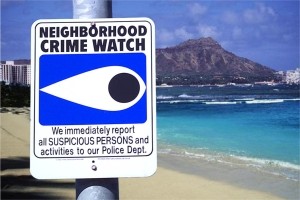 HONOLULU — Troubled by its reputation as a tropical paradise, Hawaii is on a quest to change its image by producing a series of commercials depicting the depraved side of the Aloha State.
"The days of Hawaii being perceived as a relaxing getaway, where happy-go-lucky couples lounge on a pristine beach drinking Mai Tais, are over," according to June Waiwaiole, head of the tourism council, who hopes the clichéd impressions of her state will be eradicated by the TV ads. "This place can be a real shit hole."
One of the commercials shows a strangled body washed up on the shore of Waikiki Beach with the words "Here's Your Paradise!" superimposed in bold letters.
"We have crime, just like anywhere else," she noted. "The difference is we're less likely to capture the perpetrators, because our police are really fat and don't wear shoes."
Waiwaiole cited Las Vegas as an example of how depravity can be turned into a marketing bonanza, and hopes to bring that same "edge" to the islands. "We want to be the Vegas of the Pacific."
Defending a controversial commercial showing a tourist getting thrown into an active volcano as part of an ancient Hawaiian ritual, she quipped, "What happens in Mauna Loa, stays in Mauna Loa."