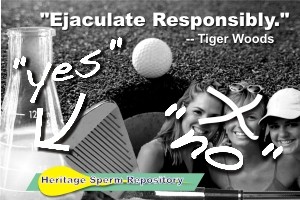 DENVER — On the heels of Gatorade and other major companies terminating their sponsorship agreements with Tiger Woods, the Heritage Sperm Repository of Colorado Springs has announced a major endorsement deal with the renowned golfer.
Amid revelations that Woods has copulated with an ever-increasing number of mistresses across the country — with at least one of whom he is alleged to have fathered a child – Heritage, which operates over 300 sperm banks throughout the United States and Canada, believes the legendary golfer still carries plenty of "street cred" with their target audience.
Woods will be the face behind the firm's "Ejaculate Responsibly" campaign, according to Vice President of Marketing Ed Pontal.
"For the average guy who wants to spread his seed without the burdensome toll of maintaining multiple sex partners," explained Pontal, "a recommendation from Tiger Woods carries a lot of weight."
Pontal believes Woods's reputation as a top athlete and ejaculator will boost their efforts to reach out to new donors. "Who better to disseminate a message against gratuitous insemination," asked Pontal, "than someone who's disseminated gratuitously in all fifty states?"
A billboard campaign is already underway, depicting a solemn looking Woods being hunted down by a group of angry blonde women. Below him are the words: "Ejaculation is a terrible thing to waste."
Pontal compared the Woods deal to a credit union hiring Bernie Madoff to encourage customers to open a conventional savings account. "Bernie might say, 'Don't pour your assets into a deceitful group of whore-mongers, deposit them with someone you trust.' That's the message Tiger will deliver to our audience."
Heritage plans to unveil a commercial during the Super Bowl telecast that re-creates Woods's highly publicized automobile accident. Woods is shown in the driver's seat, bleeding and bruised. He turns helplessly toward the camera, holds up an empty specimen container and advises viewers to deposit their semen with Heritage.
"Three strokes over jar," declares Woods, "can save you from a dozen meaningless holes."