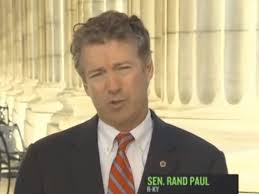 WASHINGTON (TheSkunk.org) — Sen. Rand Paul's apology for using plagiarized passages in his speeches appears to have been extracted from a speech given by former congressman Anthony Weiner.
"I apologize for the personal mistakes I have made," said Paul in a news conference on the steps of the Capitol, "and the embarrassment I have caused."
The sentence was taken verbatim from Weiner's 2011 resignation speech. The similarity might have gone unnoticed, had it not been for specific elements of the speech that seemed slightly out of place.
"I make this apology to my neighbors and my constituents," continued the Kentucky Senator, "but I make it primarily to my wife, Huma."
When it was pointed out that his wife is named Kelly, Senator Paul issued another apology to his wife, this time using words he had apparently pilfered from former Governor Mark Sanford's 2009 apology speech.
"Let me apologize to my wife, Jenny, and our four great boys, Marshall, Landon, Bolton and Blake, for letting them down…"
Paul could not be reached for comment. Staffers for the senator told reporters their boss was out "hiking the Appalachian Trail."