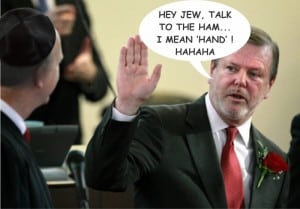 RALEIGH, N.C. (TheSkunk.org) – The North Carolina legislature passed a bill today allowing public employees to deny services to Jews. The "Freedom to Ignore Jews Act" goes into effect immediately, and it prevents civil servants from facing prosecution for refusing to do anything for Jewish people.
According to the new law, if a city employee wants to cut off a Jewish family's access to electricity or water, deny them a driver's license, business permit, or emergency services, they can do so with impunity.
"We're not endorsing discrimination," explained Senate leader Phil Berger, R-Rockingham. "This is about religious freedom.  It's about the God-fearing citizens of this state not having to acknowledge the existence of Jews in their neighborhood, you know, because of the whole Jesus thing."
The new law defines a Jew as "anyone who appears to be of the Jewish faith," which allows state and local employees to deny services to practically anyone based merely on a suspicion they are Jewish, without fearing legal consequences.
Jewish community leaders have vowed to fight the legislation in court, but lawmakers don't seem to take them seriously.
"Look, there are only a handful of Jews living in the entire state," said Berger, "so it's really not that big a deal."
"Besides," he chuckled, "the judges don't even have to hear their case."