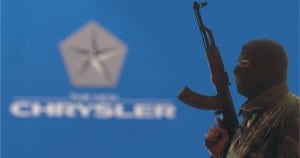 DETROIT/GUANTANAMO BAY — Terrorist Abdullah Reza Mafabi, imprisoned at Guantanamo Bay for conspiring with Al Qaeda, is now the number-one man at Chrysler.
A series of serendipitous misunderstandings, coupled with bureaucratic ineptitude, has put Mr. Mafabi at the helm of the iconic American automaker as its new Chief Executive Officer. 
According a source at the Justice Department, "With the President juggling the economy, the banking bailout, the restructuring of the American automobile industry and the fate of the Gitmo suspects, it was only a matter of time before a blunder of this magnitude would materialize."
"The President wanted to send Mafabi to New York to stand trial in a civilian court," said Rahm Emanuel, White House Chief-of-Staff, "while at the same time finding a replacement for [Chrysler Chief Robert] Nardelli.  Somewhere along the way, the lines got a little crossed."
Press Secretary Robert Gibbs downplayed the mistake, calling it a minor "kink" in the relocation of Guantanamo prisoners, and saying it could have happened to anyone.  "Haven't you ever ordered a Coke," asked Gibbs, "and gotten a Pepsi?"
President Obama has taken complete responsibility for the mix-up.  "I screwed up," said the President. "I took my eye off the ball and let this known terrorist become in charge of an iconic American corporation."
According to the company's recently revised bylaws, the new CEO cannot be removed without a two-thirds vote of shareholders.
"Let's give Mafabi the benefit of the doubt," said Obama.  "Working together, I think we can find common ground."
As for CEO Mafabi, his first order of business was to cancel the development of all hybrids and bring back the 1950 Dodge Desoto, with a redesigned 800 cubic inch engine that gets roughly half the mileage of the original.
Questioned by environmental groups about the wisdom of resurrecting the two-ton gas guzzler, the Saudi-born Mafabi replied, "Hey, I got family back home I have to think about."