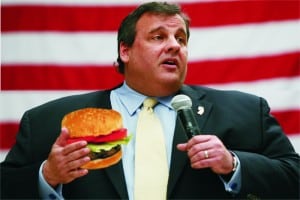 TRENTON, NJ (TheSkunk.org) — Governor Chris Christie today denied uploading a nude photo of himself to his Twitter account — an image which caused the Internet to completely shut down for three hours on Tuesday. The photo, described variously as "nauseating," "puke-making" and "get that fucking mountain of flesh off my hard drive," appeared online early in the morning on the East Coast, just as Tweeters were consuming their breakfast.
"I'm reading my Twitter feed, enjoying a delicious cup of jo, when suddenly these hideous images pop up unexpectedly," said stock broker Ted Halverton. "It looked like a heap of raw bacon mixed with Crisco and hair balls — and something that resembled a moldy hot dog. Before I could turn my eyes away from it, I had already upchucked my coffee and eggs on the keyboard."
In a press conference this morning, the Governor suggested his Twitter account had been hacked. "Whether the massive rolls of gelatinous, pock-marked pulp depicted in those photos are mine or not is irrelevant," he said. "The fact is, I would never share my blubbery, gas-filled nakedness with anyone but my lovely wife."
But cheerleader Tammi Wells said she had been receiving various photos of the unclothed sweaty blob for months. "At first, I thought he was sending me pictures of a football stadium filled with flesh-colored dog shit or something," said the high school sophomore. "Then I noticed what I thought was either a belly-button or a rectum where I imagined the 35- yard-line would be ."
It wasn't until Tuesday, when she detected a foul odor emanating from her monitor, that she decided to come forward.
"I never knew you could get a smell from your computer," she said. "It was, like, dead skunk mixed with Cheeze Whiz and farts. If I hadn't already made myself throw-up earlier in the morning, I would have totally barfed."
Others weren't so lucky. Within minutes of viewing the naked Christie photo, millions of women up and down the Atlantic seaboard simultaneously vomited on their computers, wireless phones and iPads. "Why would he do this to us?" asked Brenda Sardu from the intensive care unit at Trenton Memorial hospital, where she was being treated for dehydration resulting from continuous regurgitation. "I was leading a productive life and now I have that — image — burned into my retinas forever."
She turned on her side and vomited again. A nurse who entered the room refused to clean it up. "Damn that Governor Christie," she said. "Let him come down here and mop up this puke, himself."
As a result of the photo making its way to every corner of cyber space, the Internet experienced its first worldwide crash. Engineers worked for three hours to bring it back online, generating calls on tech blogs for the Net to be "Christie Free."
The situation has been fodder for late-night comedians. "Where does a 700 pound lard-ass hippo freak upload his naked photo?" asked Jon Stewart on The Daily Show. "Anywhere he wants."
David Letterman speculated whether the photo depicting Christie was taken from his "front, back, top, bottom or inside."
Conan said that Christie's staff suspected him of uploading inappropriate photos of himself to the internet, but they never brought it up. "It was the elephant in the chat-room."
Not everyone condemned the governor for his indiscretion. "I've been creating malicious Internet viruses for fifteen years," noted one hacker who declined to be identified. "But one nude picture of Governor Christie was able to accomplish what my colleagues and I could only dream of."
The hacker said he hopes Christie does not succumb to the near-unanimous calls for him to step down, and even hopes he will run for reelection.
"That lard-ass hippo freak has my vote," he added.