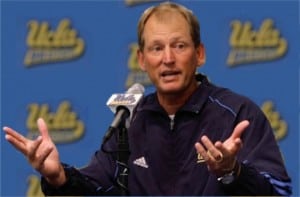 LOS ANGELES (TheSkunk.org) — UCLA Coach Rick Neuheisel blamed Saturday night's colossal 0-50 loss against rival USC on "lousy players."
"If it weren't for our lousy players," said Neuheisel, "I think the score would have been a little closer."
According to Neuheisel, no matter how good a coach is, "if he has lousy players, he'll get trampled on." He cites Saturday's game as just one example.
"The last time we were shut-out by USC was in 2001, but it was only by 27 points," noted Neuheisel. "That's because we had some not-so-lousy players then."
Despite the trouncing, UCLA ended the regular season as the Pac-12 South Division champions with a record of 6-6. "I can't explain the wins," admitted Neuheisel. "I can't imagine any team having lousier players than ours."
The Bruins will play in the championship game against Oregon on Friday.
Although ineligible to play for the title, USC finished their year 10-2, the best in the division. Coach Lane Kiffin attributed their impressive season to having "pretty okay players."
Neuheisel shrugged off his competitor's comment as braggadocio. "I don't know if his players are okay or not," he said, "but it's abundantly evident they are less lousy than ours."
Continued Neuheisel, "In my experience, okay players will beat lousy players every time. Duh."
Kiffin agreed. "It's always a great feeling to completely obliterate a team of lousy players," he said. "We're feeling pretty good this morning."
But Neuheisel advised the media not to count the Bruins out so quickly. "If we could just replace a handful of our lousy players with some not-so-lousy ones in time for the conference championship game," he predicted, "chances are we won't lose by such an embarrassing amount."
He appealed to the public not to "demonize" the entire team because of its lousy players.
"The players do not make the team," added Neuheisel. "Give us some better-than-lousy players and stand back — we'll blow you away with just how un-lousy we can be."