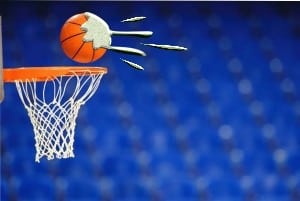 After losing the 2009 NBA Finals 4-1, Orlando players have accused the Lakers of applying a foreign substance to the basketball to make it easier for them to score.
"Shots that would normally bounce off the rim are going in," said Magic head coach Stan Van Gundy. "It's obvious they've been greasing their balls during the game."
Orlando center Dwight Howard agrees.  "Watch closely and you'll see Kobe stroking his head with his palm right before he shoots."
L.A. head coach Phil Jackson denied the allegations, chalking it up to poor sportsmanship. "They didn't get the happy ending they wanted," he said. "They couldn't get their shots off, so they accuse us of greasing our balls."
"When I snatched Kobe's ball in game three," explained Magic guard Mickael Pietrus, "it practically slid through my fingers, but I was able to hold on.  Had I released prematurely, it could have gotten very messy."
Jackson insists they've never greased their balls, and that they "shoot with the same dry balls as our opponents."
Some of the Orlando players claim it's not just grease the Lakers are using to win.  Forward Hedo Turkoglu accused Pau Gasol of spitballing. "Every time he takes possession, he's licking his hands," he said. "It's gross. Just thinking about touching his slimy ball after that freak's put his saliva on it makes me wanna gag."
Jackson, clearly annoyed with the whole controversy, rebuffed the comment. "Our players do not engage in ball licking," he said. "Officials are more than welcome to feel our balls, before, during or after a game – they'll be completely satisfied."
NBA rules state that a basketball must be properly inflated, but offer no restrictions on foreign substances slathered upon it.
"I've asked the NBA to enact rules similar to those of Major League baseball regarding rubbing stuff on your balls," said Van Gundy. "Players should be benched if they're caught feeding even one contaminated ball to their teammates."
NBA management has retained a team of forensics experts to extract paint samples from the baskets and detect any foreign substances found on them.  They said the rim jobs would continue as long as necessary until a satisfying conclusion could be achieved.